Top 30 Twitter Accounts On AI You Should Follow
July 16, 2021 7 min. read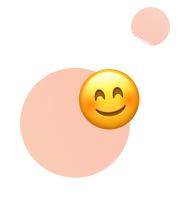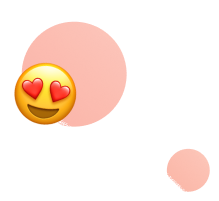 Got interested?
Get your first leads today and turn them into closed deals!
The world is going nuts over AI and tools built on it. They plunge into this area and can't help consuming more and more info about it, and are even creating their own intelligent products.
To help you catch up on the latest news on the AI industry, we've selected Twitter accounts that are both top-rated and trending. Let's get started!
Companies
This account needs no introduction, as it is curated by the industry leader in AI. They mainly tweet about their innovations and the latest research. Getting the news straight from the horse's mouth is worth your time.
IBM is well-known in the field for its AI-based solution called IBM Watson that helps businesses to predict future outcomes, automate processes, and optimize employees' time. By following their account, you will be briefed on IBM's tools and trending industry news.
Deepmind is a company that builds AI systems, and their tweets are based on their own research and experience. That makes them more practical and quite useful for programmers that are working on similar issues.
OpenAI is a development company that creates artificial general intelligence (AGI) autonomous systems to outperform humans. Their feed is filled with the highlights around their latest product updates and developments, links to readings on AI that they find interesting, and the most significant industry news.
If you want to receive more academic and scientific information on AI, don't hesitate to follow this account. They tweet about AI technology in terms of education, the legal environment, and ways to improve living conditions.
This Twitter account belongs to the Computer Science and Artificial Intelligence Lab of the Massachusetts Institute of Technology. You'll find general news and educational content from the field of AI, ML, and data science, as well as celebrating the contributions of people and companies to the technology we have today.
Yes, Facebook has its own team that conducts open research on AI in collaboration with the community. So if you want to get some fundamental knowledge about what's going on in the academic world, follow them.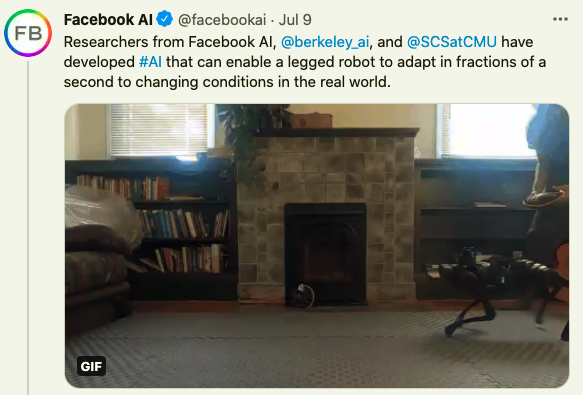 Covariant works on creating a universal AI that will allow robots to see, reason, and act. Their feed is a compilation of their technology updates and links to other resources covering the same topic.
Their account focuses on ML, AI, IoT, and deep learning algorithms. They tweet industry news and links to academic articles on the topics that will give you a bigger picture of these related industries.
SAS develops analytics software that helps businesses analyze and visualize data, and apart from their solutions, they address general AI-based issues. On top of that, they post links to podcasts with quite exciting guests. So if you don't want to miss the next episode, better subscribe!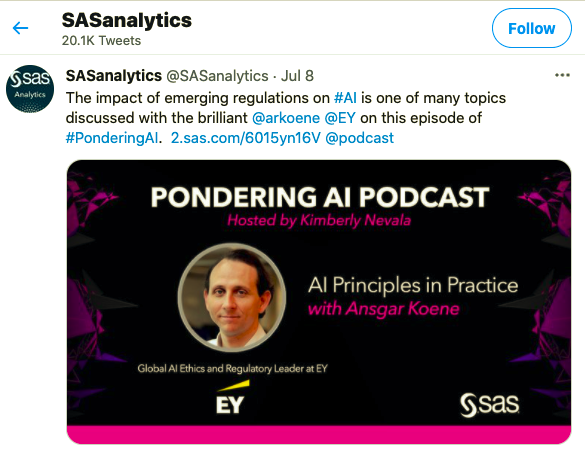 Thought Leaders
Greg Brockman, the CEO of Open AI—a company well-known for its neural network DALL-E, which converts text into images—writes about OpenAI's developments quite thoroughly, describing the algorithms they use. If you are a programmer working on the same issue, it might be interesting, huh?
Quite a well-known figure in the AI world, former CEO of Google China, Kai-Fu Lee, tweets about the latest technology trends. Being a founder of a venture capital firm also highlights the most promising AI startups.
If you want to follow both a company and its leader, this account is a good shot. Being CEO of Deepmind, Demis Hassabis often retweets what's going on there and plays around with the more complex issues in AI.
A Coursera Co-Founder, former head of Baidu AI Group, and a frequent member of industry panel discussions, he tweets about the latest industry events and conferences and drops the freshest ML and AI-related programs released on Coursera.
The CEO of Intelligent World tweets on big data, ML, AI, and deep learning technologies. His account is a playground that connects businesses and experts. On top of that, he is one of the most prolific Twitter bloggers, so if you want a platform that covers all the basics, definitely hit the follow button.
CEO at GoodAI.com and KeenSWH.com, Marek Rosa, knows the industry quite well. His Twitter feed will keep you updated with what is going on with his projects and connect you with other AI-leading startups.
Allie K. Miller is a well-known expert in the industry. Her Twitter thread is not just AI-focused. Let's say it's more human. She shares her thoughts on AI technology, startups, and venture capital and covers more global issues such as diversity in education and women's business.
Bernard Marr is an outstanding figure in the industry—the author of more than a dozen best-selling books, a Forbes contributor, and a technology advisor to the world's top businesses. His Twitter is indeed worth following as it will give you an industry overview from the perspective of one of the most influential industry thought leaders.
On her Twitter, Tessa Lau advocates for agile AI technologies that help build sustainable robots and provides updates about the latest research and development in Dusty Robotics, her own company. If you believe in a sustainable future, don't hesitate to follow her.
Nige Willson was a senior manager at Microsoft for two decades and later on established We and AI, a nonprofit organization that helps educate people about AI and awaken AI, a company that provides consultancy services for businesses that want to implement AI tools into their tech stack. With his profound knowledge of the technology on his Twitter account, he brings together the best stories from the AI world.
This Twitter account is curated by Imtiaz Adam, the founder and the director of machine learning strategy at Deep Learn Strategies. It is a good one to go for those who don't want to surf across various accounts but want to have all the insights on AI in one place.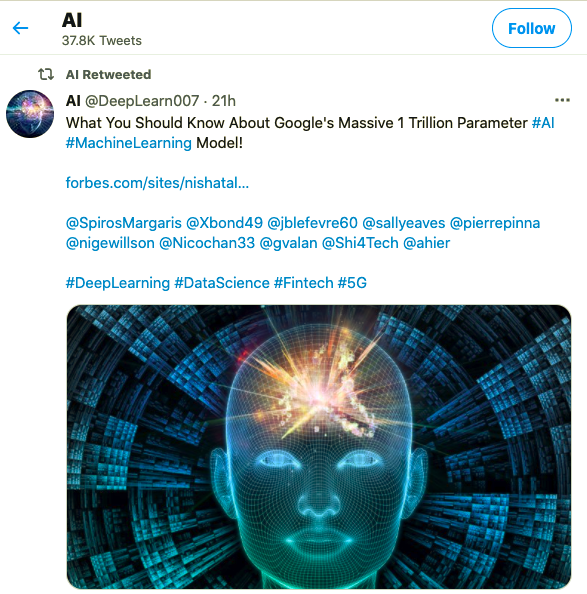 Researchers and Developers
ohn Carmack is an independent AI researcher who reviews some of the latest products and developments and reflects on the AI industry in general.
Lex Fridman is an AI researcher in addition to his industry achievements also has a podcast where he invites influential guests to discuss all sorts of topics connected with AI. On his Twitter page he contemplates ML and AI and regularly posts new podcast episodes.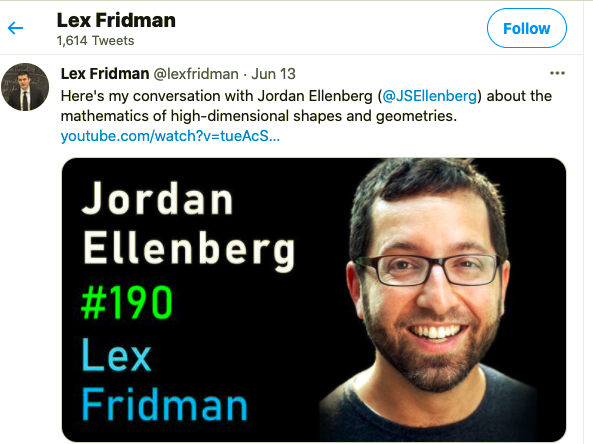 Chief AI Scientist at Facebook and a professor at New York University, Yann LeCun, shares his scientific and philosophical thoughts on AI and retweets news that will help you stay in the loop of the latest developments.
Fei-Fei Li is a professor at Stanford and a StanfordHAI co-director, which makes her tweets both scientifically-based and practical.
Kirk Borne is a famous data scientist and one of the world's top AI and data science influencers. So if you want to dive deep into the field of data science, AI and ML, this is a must-follow Twitter account.
CEO and Founder of Robust.AI and a professor at NYU, Gary Marcus feed focuses on scientific research. Most importantly, he is truly following the industry news and will never leave important tweets without comment.
Angelica Lim has a Ph.D. in AI, robotics, and emotions, and her research focuses on building robots that will be able to simulate human emotions. Don't hesitate to follow, especially if you are into the subject. It's unique.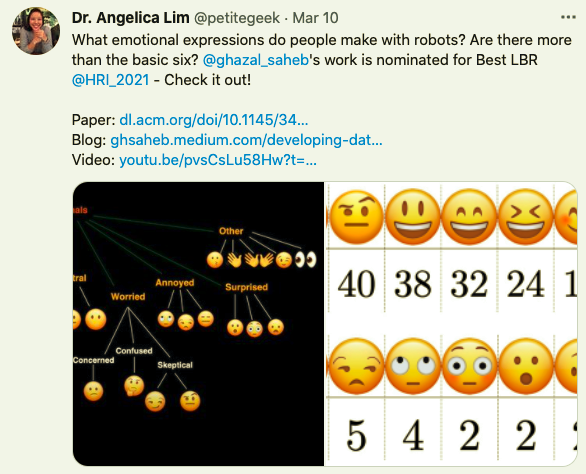 New to Twitter, Michael Auli, a Research Scientist from FacebookAI, has many valuable retweets connected to the AI community. His personal tweets focus on deep learning, as well as natural language processing and recognition.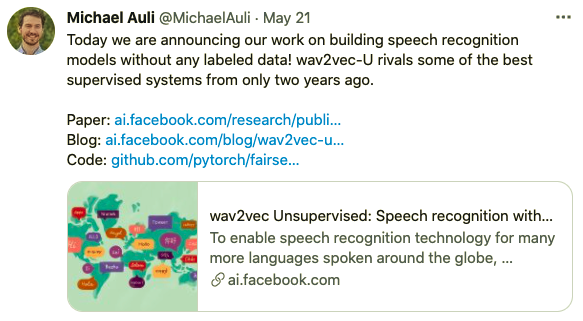 Pedro Domingos, a professor of computer science at the University of Washington and author of the bestseller 'The Master Algorithm', tweets about the stigma surrounding AI and science in general. Quite intriguing, isn't it?
Wrapping up
So if you find any of these Twitter accounts interesting, push the button. Unlike long reads like blog posts that consume a lot of time and sometimes give you too much info, tweets will help you stay informed, save time and satisfy your cravings for the latest AI-related news.
Enjoy!
---
More useful content on our social media: